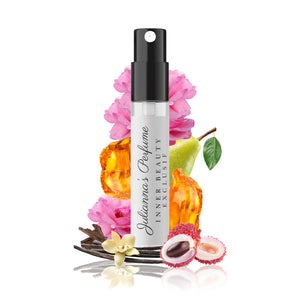 Comes with
- 2ml Bottle of Inner Beauty Exclusif


Succulent, alluring and all encompassing!
The perfectly plump opening of sweet pear, succulent litchi, and luxurious turkish rose will transform anything this fragrance encounters into an all-encompassing feminine wonder.
Gentle wafts of sappy agarwood and rich amber encompass your skin, coating you with a gravitational attraction of sensual warmth and magical allure. As if this wasn't already a dreamy blend, a creamy almost narcotic wave of incensy vanilla balances the fresh sensations and dark undertones, making this fragrance a stroke of perfection!
Scent
 Profile
This fragrance has a similar DNA to Delina Exclusif 💕

Notes of Parfum
Top Notes:  Pear, Litchi, Bergamot / Heart Notes:  Turkish Rose, Agarwood, Incense / Base: Vanilla, Amber, Woody Notes

Concentration
Extrait
*This item is non-returnable