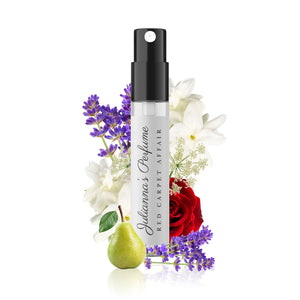 Comes with

- 2ml Bottle of Red Carpet Affair

About her
Nude lipstick, red dress and stilletos! Red Carpet Affair, makes you feel like the most feminine woman in town.
Lured in by sweet angelica and edible pear to start the show, with rich vanilla dancing around these two aphrodisiacs. The blend of these notes make you sniff your wrist over and over again trying to figure out what exactly makes you want more. Watch out!
At the 1 hour mark waves of a floral bouquet prance into the party. Wet rose, white musk, lavender and jasmine sambac guide you into complete nirvana.
Sweet, floral, and seductive..Red Carpet Affair is the queen of compliments.

Scent Profile
This fragrance has a similar DNA to Angelique Noire 💕

Notes of Parfum
Top Notes: Angelica, Pear / Heart Notes: Lavendar, Rose, White Musk / Base Notes: Vanilla, Jasmine Sambac

Concentration
Extrait

*This item is non-returnable